8 min read
For the love of a data scientist! It's time. (To start deploying your AI solutions).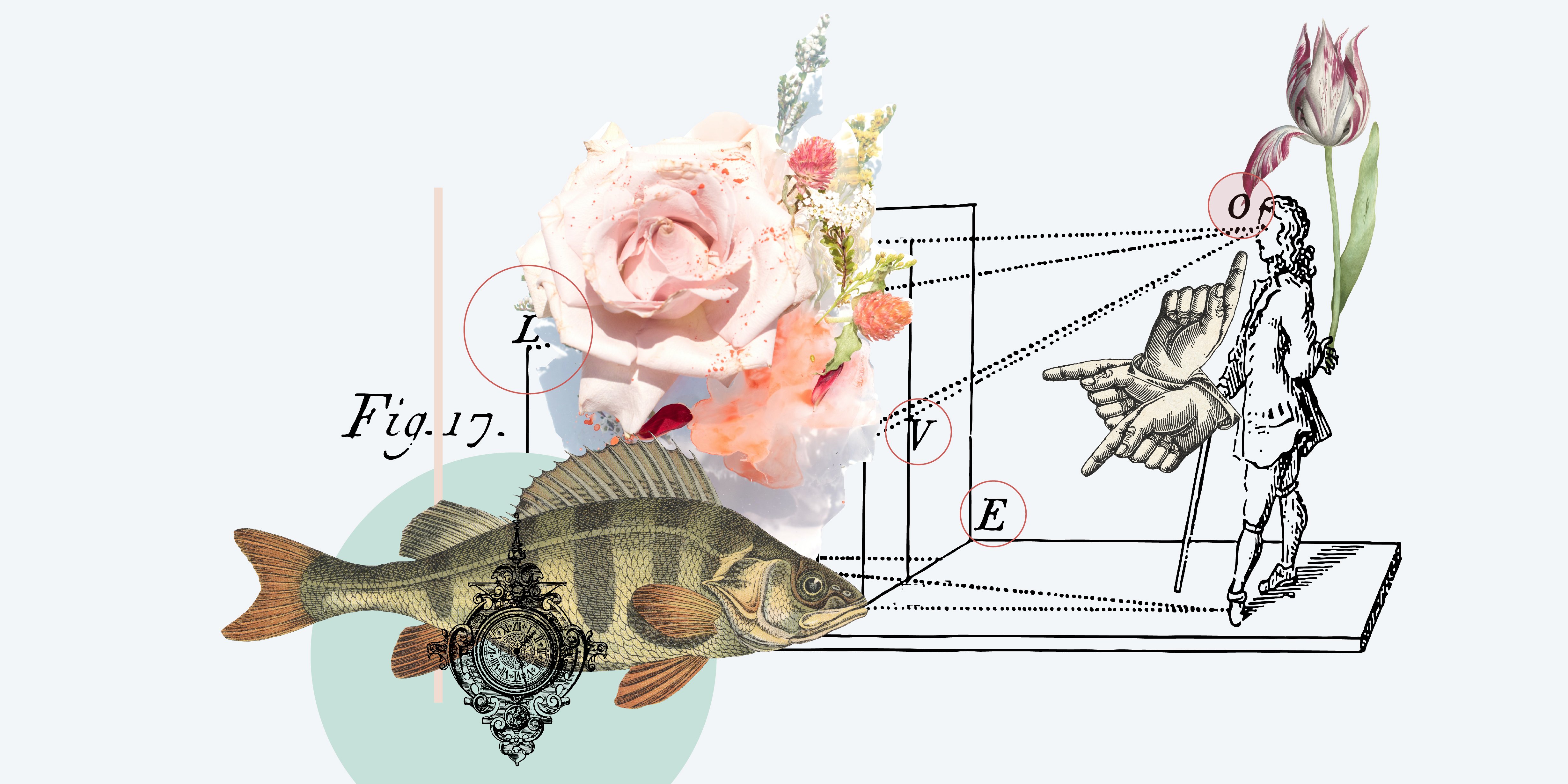 Are we comparing our data scientists to God with that title? Not quite. Disrupting an old, informal idiom your exasperated mom might have once used to get your attention? Perhaps. Filling in the blank on our favorite MadLib? Maybe. Being provocative to get you to ask us more AI questions? Definitely. But what is without question, is the ethical responsibility that the data science field will need to demonstrate over the next decade. Our global problems are big. They are on the rise. And everyone needs to be paying attention and saying yes to AI to solve them. It's time.
Oxford Professor and Director of the Future Humanity Institute, Nick Bostrom once famously said, "Machine intelligence is the last invention that humanity will ever need to make." But instead of thinking about that statement in a James Barrat book title sort of way ~> Our Final Invention: Artificial Intelligence and The End of the Human Era ~> what if business leaders heeded Nick's notion as a call to action: to finally organize, craft a data strategy and make sound data-driven decisions to solve business problems. Because really, what else is there to wait for anymore. Intelligence technologies like machine learning, machine vision, intelligent automation, natural language processing, and more shiny things; they're all here. No need to wait for the next big invention. AI is the natural next step in helping people, the globe, and your business solve problems previously thought impossible.
Digital Transformation and AI: The natural path forward.
Back in 2018, @MikeQuindazzi, a now 2022 digital futurist power lister and PwC Managing Director, shared his thoughts on Rapid Value Solutions' Evolution of Digitization diagram which did a good job illustrating the transformative pace at which we were headed back then: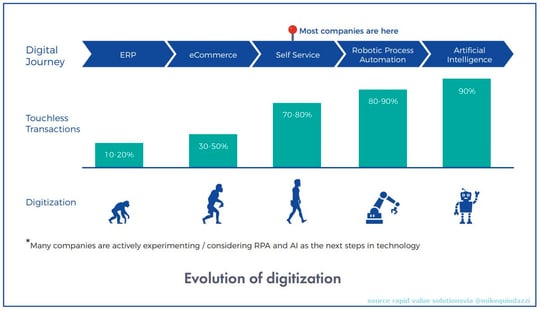 Two years later, a New Vantage Partners 2020 study on Big Data & AI stated that "Nine out of ten leading businesses have investments in AI technologies, but only 14.6% [have] deployed AI capabilities in their work."
This inspired us to design an illustration of our own: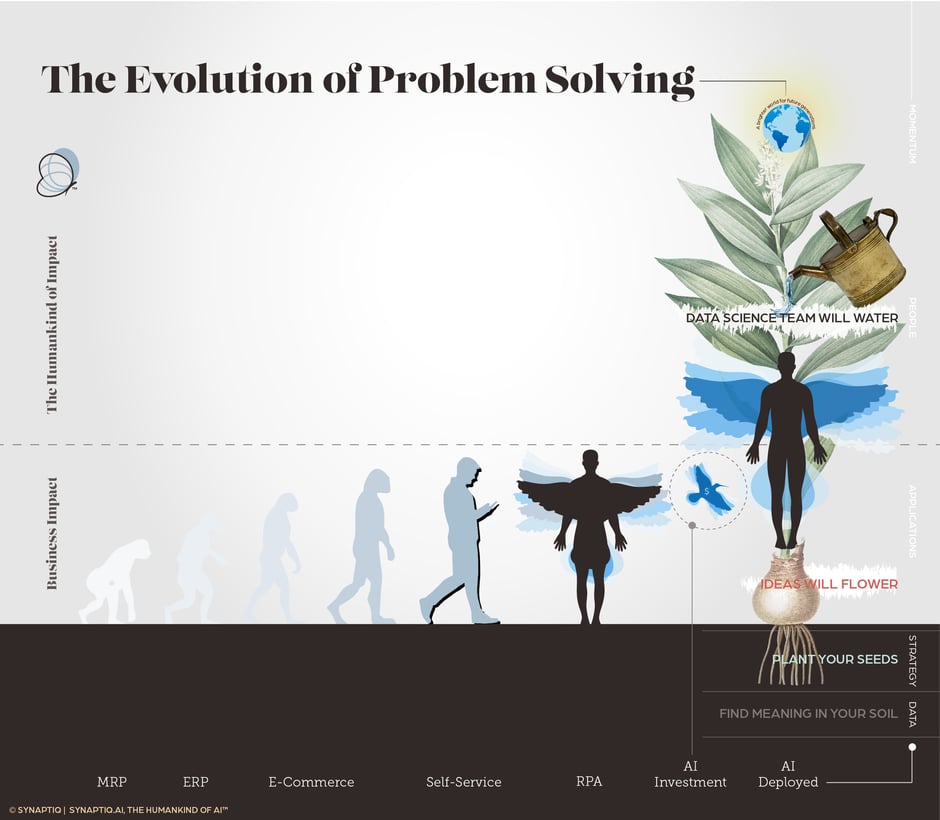 What we are seeing is not only missed opportunities for businesses to improve their AIQ™ and thrive, but when AI for business is deployed responsibly, not seizing the opportunity, is also a miss for chipping away at making a broader impact on a brighter world for future generations. (Stay with us, we're going to show you what we mean).
Solving business problems using AI ladders up to human impact.
We began our data science business 6 years ago as an AI consultancy. And aside from our volunteer COVID projects, and a novel idea in the health & wellness space by a few curious team members which we spun-off as an AI for Healthcare start-up, we've been mostly hired to listen to the business problems our clients face and apply AI-driven solutions to solve them. Then, we underwent a rebrand. Our original vision statement (our 'what we aim to achieve' statement) for Synaptiq was: to build human-centered AI solutions, products, and companies that gain worldwide recognition for solving some of the hardest problems in business. It was during this process of introspection of our brand, our impact as a company, our client's impact on people, that we saw fit to drop 'in business' from our vision. Not because we're changing our model, but rather, we have been able to see the connection between a solved, noble business problem and its ladder to real human impact. It can be, at times, considerable, or at times slight. Yet, however small the humankind of impact may be - it is impact nonetheless. So that's how we've decided to fly: we see solving business problems as the gateway to deploying The Humankind of AI™. And funny how it works when humanity is involved, our clients see it that way now too. Let's take a look:

Industry: Banking & Financial Services
Business Problem: Lack of Identity Verification & Transformative Tech to Battle Fraud
Passwords fail to protect personally identifiable information and payment information time and again. And in Mexico, institutions are often faced with fraud-related identity theft. Stephane Mathieu, former CEO at DICIO Bank in Mexico, wanted to use facial recognition and fingerprinting as dual forms of biometric authentication for individuals seeking to open new bank accounts, many for the first time in their lives. DICIO needed facial recognition technology (a "Crypto Facekey") to determine both identities based on pre-existing databases as well as other aspects of well-being to help prevent fraud, spoofing, and other criminal activities. And all of this needed to happen in a secure and elegant app his team was developing.
AI solution: Machine Vision
Synaptiq provided machine vision and machine learning models to the app development team, proposed ways to train and configure models for various tasks, and delivered production-ready models, APIs and documentation.
Business Impact: Innovation Offerings Beyond A Single Bank
Although the project goal of developing an app with machine vision technology was specific to DICIO, by the end it became clear that it was innovation worth investing more in. While exploring sample images and videos we proposed a few approaches to train and fine tune model accuracy, including measuring stress based on heart rates derived from facial videos. Armed with how to retrain models over time, DICIO's Mathieu took the next big step for his business. He could offer wide spread identity protection anywhere in the world.
The Humankind of Impact: 100,000 residents of Mexico may now be able to bank for the very first time in their life.
AI solutions that protect human identities and reduce physical hardships create access and inroads for those who may have been, even unintentionally, forgotten.

Industry: Healthcare
Business Problem: Behind the Competition
Cardiovascular disease (CVD) affects 100M+ Americans, remains the leading cause in 1 out of every 4 deaths, and many go undiagnosed. Carotid Intima-Media Thickness (C-IMT) test scans are a common, non-invasive procedure to assess vascular age, identify plaques, and diagnose CVD. However, C-IMTs require ultrasound equipment, trained sonographers to conduct the scan , and technicians to compile reports. It can take weeks for providers to receive results and initiate critical interventions. That's too long. A small, but determined team had the answer to speed and affordability, and needed to get it to market for the win.
AI solution: Machine Vision & AI-Powered Automation
Synaptiq trained models that consume DICOM images to measure intima-media thickness and detect plaques and their location in carotid arteries. The solution output feeds a digital report that a healthcare practitioner receives in record time to share with their patient.
Business Impact: Increase in Customer Base with Affordable & Timely Reporting
As more and more medical datasets are captured digitally and connected, there is a growing wave of life-saving healthcare innovation. Not only does this improve patient outcomes, but the cost reductions allow for greater balanced healthcare for all.
The Humankind of Impact: 100,000,000 more lives could be saved using rapid C-IMT results devices.
AI solutions that offer near real-time medical results can offer everyone more access to healthcare today and provide worried patients with more tomorrows.

Industry: Food Services
Client Business Problem: Inability to Surface Deep Insights
A multi-billion dollar American foodservice distributor wanted to anticipate customer food demand but needed to understand food purchasing better. The data source: restaurant menus. But extracting popular dishes, ingredients, and their associated costs from a seemingly limitless base of custom online menus was a particularly difficult challenge (e.g., varying fonts, layouts, and colors). We needed to build a model capable of analyzing hundreds of thousands of varying menus in preparation for upcoming food distribution.
AI solution: Machine Learning & Machine Vision
Synaptiq developed a machine learning and machine vision solution that analyzed and retrieved menu information from thousands of restaurant menus across the country - name of dish, description, and price - to map relevant data to ingredients. A standard object-detection and visual to verbal pairing process, which included autonomous data analysis, and incorporation of OCR (Optical Character Recognition) technology transformed images of words into digital text.
Business Impact: Increase in Sales & Revenue & Enhance Customer Service
Developing an in-depth understanding of their customer's most popular menu items, the distributor was able to sell more food products, uncover new opportunities with their data, anticipate needs, and provide more meaningful purchase choices for their customers.
The Humankind of Impact: 10,000 restaurant owners nationwide could maximize profits to rebound faster from pandemic losses.
AI solutions that help foodservice workers analyze data to determine food shortages and address them more proactively can bring stability to a critical industry.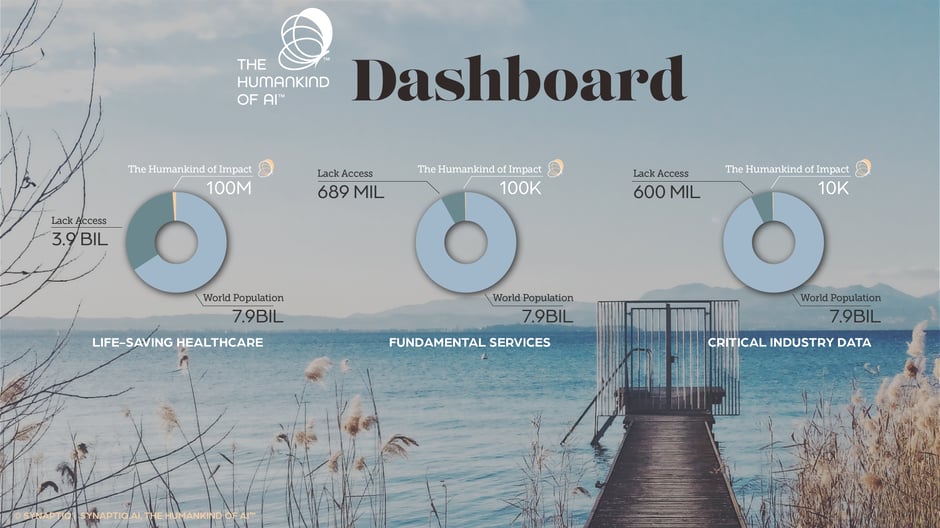 The Humankind of Data Dashboard: Let's close the access gap.
The potential humankind of impact happening in this article alone makes it worth a second glance at your AI investment plans. (And yes, we're data people, we're counting.)
In summary: find your next data scientist. Stop planning and start deploying. The next new shiny thing is not coming, it's here. It's making a difference. And it's money well spent.
It's time.
Well spent.
--
Partner up with a team who makes thoughtful considerations across disciplines examining past, present and future models of merit when they're engaged in problem solving. Whether history, science, math, nature, human behavior; they all inform the data and ideas that can help us find answers to world-class riddles.