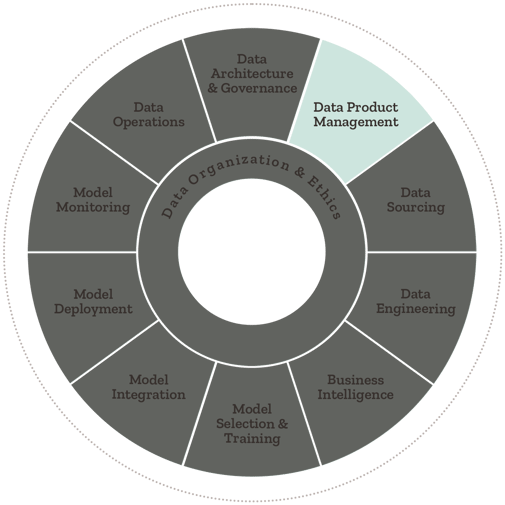 Data Product Management is the discipline of bringing products to market where data is the primary value driver. Key activities include market analysis, requirements management, user experience, technical interface design such as API's and integration formats and the management of actual data products.
Why does Data Product Management matter?
To derive value from data, companies must turn data itself into a product, or create products that leverage it. Organizations with strong data product management have constituents who are equally familiar with traditional product management disciplines combined with strong technology skills such as relational databases and schemas, machine learning features and models, and application development.
Traditional Product Management Discipline
Applying traditional PM disciplines, such as market analysis, requirements management, use experience, and release management across the product lifecycle.
My organization knows how to capture and analyze business processes and is experienced in defining and measuring business objectives and key results (OKRs).
My organization knows how to define and measure product and feature value.
My organization is competent in the entire product lifecycle.
The product lifecycle includes: conducting product research, managing a product roadmap, defining product requirements and design, collaborating with development to build a product using agile techniques, launching new features to a user base, and measuring user engagement and other key metrics.
Making informed decisions and providing long term strategic vision for data products driven by business and customer needs.
My organization knows how to identify opportunities for automation, "deep analytics", and data assets.
"Deep analytics" refers to techniques beyond the scope of typical spreadsheet functions such as: cluster analysis, multivariate correlation analysis, topic modeling, and more.
My organization uses a process to work with data scientists to determine whether a data-driven approach is viable or not.
My organization is comfortable conducting feasibility studies for data-driven solutions and managing expectations appropriately.
A feasibility study is an analysis that considers a series of factors — the data available, accuracy and confidence of the solution's output, etc. — to determine its viability for production use.
Technology and Data Literacy
Ability to understand data assets then leverage modern technologies, such as relational databases, ML modeling, APIs, and data visualizations, to support business needs.
My organization considers APIs as a type of product and actively pursues integrations with APIs or creation of APIs in its products.
An Application Programming Interface (API) is a contract that describes how an external system integrates with a piece of software.
My organization knows how to document and read data models including ERD diagrams, object models, sequence diagrams, and data flow diagrams.
Entity Relationship Diagrams (ERD) illustrate relationships between things (people, places, objects, concepts) described in database tables.
My organization knows how to query and analyze data using SQL, spreadsheet functions, and visualization tools.
Structured Query Language (SQL) is used to create databases, query databases, and more.
My organization understands the AI model lifecycle.
An AI model lifecycle starts with collecting data then entails preparing data, training a model, evaluating the model, deploying the model, and monitoring the model.
Learn more about Data Product Management