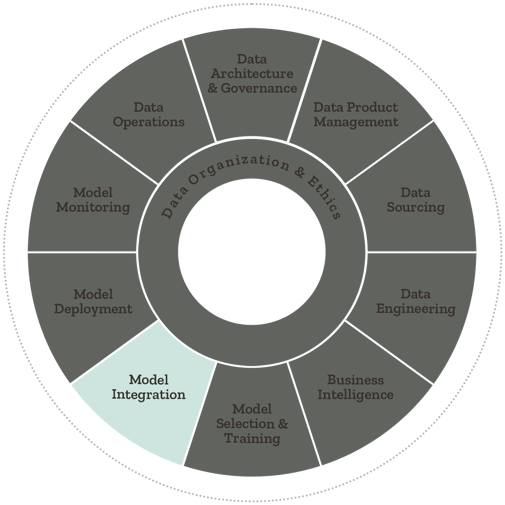 Model Integration is the process of taking a trained model from the research and development phase and integrating it with an application or other business workflow to provide value to end users.
Why does Model Integration matter?
To deliver value from models, companies must have the ability to integrate them into internal systems, products, and services. Companies need clearly defined objectives for applying machine learning to business needs, documented strategies for governing the use of models, and standardized processes and technologies to effectively serve model predictions within business workflows to deliver value to end users.
Maintain and foster a strategy for integrating and managing machine learning models in business workflows, products, systems, and services to deliver value to end users.
My organization applies principles of model governance to control how models are secured, accessed, applied, and regulated in production environments.
My organization understands and applies different machine learning model integration strategies, such as batch, streaming, and edge, depending on the product or application.
My organization has clearly defined and documented objectives for machine learning models against specific business needs, products, and services.
My organization continues to invest in Data Science, Data Engineering, and MLOps to improve our ability to effectively develop and deploy machine learning models to meet business needs at scale.
MLOps is the intersection of Machine Learning and DevOps. It's the technology and processes for developing, deploying, maintaining, and automating machine learning models to meet business needs at scale.
Having the technical knowledge, tools, and practices for integrating machine learning models and supporting data into a production system for delivering value to end users.
My organization effectively uses machine learning serving technologies for integrating models into end user products and services for inferencing.
Model serving takes a developed machine learning model and makes it accessible for delivering predictions to support business products or services. This could include real-time streaming predictions through an API or batch predictions made offline.
My organization applies pre- and post- processing techniques to integrate model requests into business workflows.
Preprocessing is performed to prepare, clean, and organize data to make it suitable for training a machine learning model. Post processing is performed to analyze, transform, and visualize model outputs to further derive insights for business or end user needs.
My organization uses a standardized, integrated technology stack across the machine learning lifecycle to minimize risk and improve stability when productionizing models.
Learn more about Model Integration