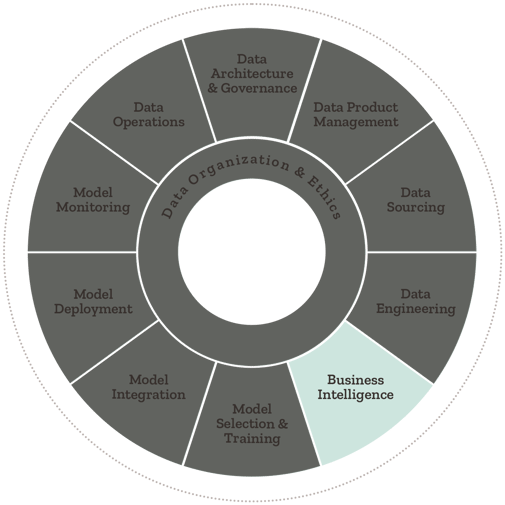 Business Intelligence enhances company decision-making by using data to answer questions about the company's past, present, and future.
Why does Business Intelligence matter?
To derive insights from data, companies must have the ability to analyze their data and create reports and visualizations that enable better decision-making. Business Intelligence combines business analytics, data mining, data visualization, data tools, and best practices to help organizations to make more data-driven decisions. It can be used by teams across an organization to track key metrics and measure progress on goals.
Fostering a competent BI Team to analyze data and develop reports and visualizations to support business decision-making and insight discovery.
My organization makes data-driven decisions.
A data-driven organization is one that effectively and consistently utilizes data in its decision-making process across all levels.
My organization has a BI team that designs, develops, and maintains a data warehouse and data reports.

The Business Intelligence (BI) team is typically responsible for compiling raw data and presenting it using understandable business terms and intuitive formats.
Supports the org workforce through BI capabilities including self service analytics, automated reports, dashboards, forecasting, and trend analysis.
My organization has capabilities to support self-service analytics for end users.
My organization uses reports and dashboards on a regular basis to support operations.
My organization has metrics that are tracked and analyzed to assess its performance.
Tracking performance metrics provides a way for businesses to measure growth and pinpoint opportunities for improvement. Productivity, profit margin, scope and cost are some examples of performance metrics that a business can track to determine if target objectives and goals are being met.
My organization uses forecasting and trend analysis to predict future performance.
Integrating disparate data sources into a centralized data warehouse to support Business Intelligence.
My organization has a comprehensive data warehouse and reports that include data from all aspects of our internal operations.
My organization has a unified approach to business intelligence with consistent tooling and engineering practices.
Learn more about Business Intelligence